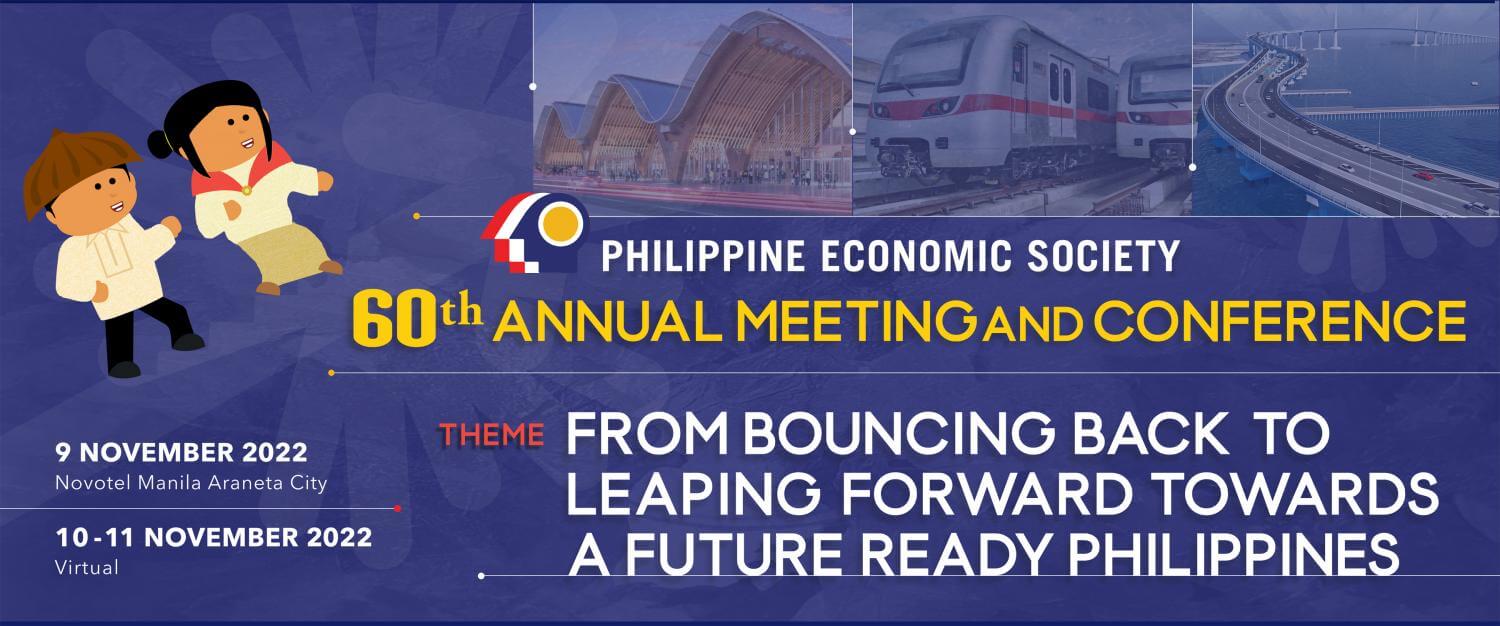 ---
From Bouncing Back to Leaping Forward Towards a Future Ready Philippines
9 November 2022 | Novotel Manila Araneta City (with livestreaming)
10-11 November 2022 | Virtual
With countries around the world emerging from the COVID-19 pandemic, many lessons have been learned in efficiently and effectively organizing work environments and the labor market, providing for basic needs of households, and strengthening public institutions, all with profound effects on the delivery of health, education, transportation, housing, energy and power, travel and the design of built environments, as well as the structuring of supply chains and the organization of financial organizations. At the same time, many challenges have emerged following the relatively long period of economic inactivity and the rise of geopolitical threats in Europe. Asia and elsewhere—the rise of oil prices and subsequent inflation, disruptions in international trade, and continued menace of autocracy. Even with the threat of the pandemic receding, issues related to the political, economic, cultural and digital divide, climate change, and autocracy continue to plague the world; these developments have especially affected developing countries, such as the Philippines. 
Therefore, the main challenge for the Philippines is how to develop a long-term development strategy that is sustainable, equitable, and less vulnerable to natural and social disruptions. These entail the development of policies and programs that will allow the country to be ready to meet the challenges in the coming decade and beyond. 
This year's PES Conference, which also celebrates the sixtieth year of the founding of the organization, showcases policy and programmatic solutions to long-running development issues and aims to push forward fresh ideas to radically move forward in the post-pandemic world.  Key speakers will highlight the importance of comprehensive responses for a dynamic and inclusive society as the country continues to move into the 21st century.
For inquiries:
The PES Secretariat
c/o Philippine Social Science Council
Tel No.: (632) 8-929-2671
Email: pes.eaea@gmail.com
Conference Registration

The first day of the conference (9 November 2022) will be held on-site at the Novotel Manila Araneta City, Cubao, Quezon City, with livestreaming of all sessions via Zoom for online participants. The second and third days (10-11 November 2022) will all be held virtually.

---

 

How to Register

---

Step 1. Fill out the online registration form through the button below.

Step 2. Pay the corresponding registration fees:

| Category | On-site Participants   | Online Participants   |
| --- | --- | --- |
| Non-PES members    | Php 3000 | Php 500 |
| PES members | Php 1500 | Php 300 |
| Paper Presenters | Php 1500 | Php 300 |
| Students | Php 1000 | Php 100 |

*On-site Participants are those who will attend the first day on-site, and the second and third days virtually.
**Online Participants are those who will attend all days of the conference virtually.

 

---

Payment options:

Pay online via PayPal or credit/debit card and send the payment confirmation to pes.eaea@gmail.com:

Pay through bank deposit/transfer and send a clear copy of the deposit slip to pes.eaea@gmail.com:

Account name: Philippine Economic Society, Inc.
Account number: 002281-0007-08
Bank branch: BPI - U.P. Techno Hub
Call for Papers and Sessions

The PES invites individual papers and session proposals on all theoretical, empirical, and policy dimensions of the following sub-topics:

Economic growth
Sustainable economic development
Digital economies
Financial economics
Competition and innovation frameworks and incentives
Trade and economic integration
Business cycle and productivity analysis
Poverty alleviation and social protection
Agriculture, natural resource and environmental management
Labor economics
Economics of energy/power and policy
Institutional economics, law and order, liability rules
Long-term planning, modeling, and economic forecasting
Econometric models and applications
Economics of natural disasters
Public policy and public health crisis
Education, health, and human capital formation

---

Submission of Proposals

All breakout sessions of the 60th PES Annual Meeting and Conference will be held virtually. Individuals or institutions interested in organizing breakout sessions must have the capability to virtually host the organized session for 1.5 hours, preferably through Zoom. Meanwhile, individual paper presenters will be grouped together into breakout sessions to be hosted by the PES on its Zoom account. Each breakout session should have only up to three (3) paper presentations to allot sufficient time for the open forum.

Individual paper submissions must include (1) a two-page executive summary of the paper containing the purpose of the research, method of data gathering and analysis, and overview of findings; and (2) a 150-word maximum abstract of the research paper.

Session organizers must submit a session proposal in one Word document file, which includes (1) the session title; (2) a 150-word maximum session abstract; (3) titles and abstracts of each paper presentation; and (4) the list of session participants (e.g., moderator, presenters, discussants), including their names, institutional affiliations, positions, and email addresses.

The deadline for submission of paper abstracts and session proposals is on 31 July 2022. Proposals must be submitted through the submission forms by clicking the buttons below.

---

Review and Acceptance of Proposals

Submitted proposals shall undergo review and vetting by the Conference Scientific Committee.  PES shall issue notices of acceptance on 31 August 2022.  Papers presented in the different sessions may be submitted for possible publication in the Philippine Review of Economics.

Timetable

| | |
| --- | --- |
| Submission of proposals | 31 July 2022 |
| Notification of acceptance | 31 August 2022 |
| Deadline of confirmation of participation*        | 15 September 2022 |

*Only those who confirmed their participation and paid their registration fee will be included in the program.