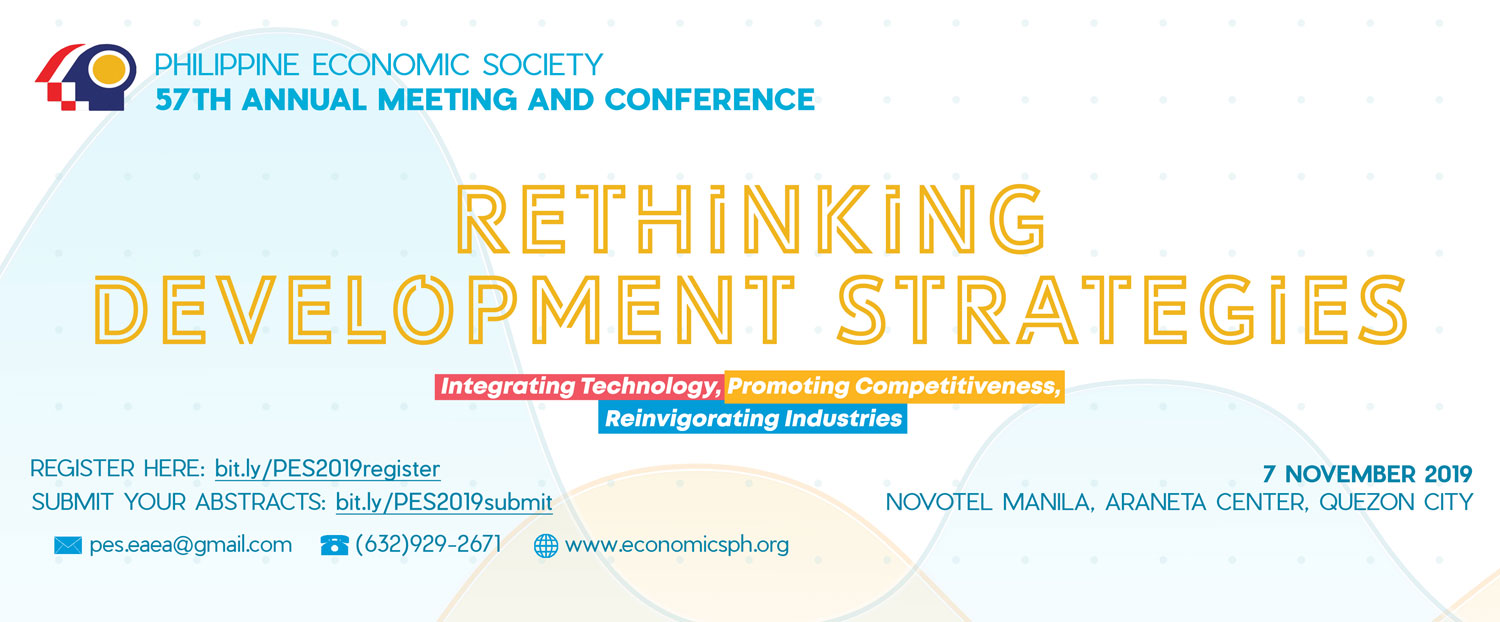 Rethinking Development Strategies: Integrating Technology, Promoting Competitiveness, Reinvigorating Industries
07 November 2019 | Novotel Manila, Araneta Center, Quezon City
The Philippine economy has been growing at an average of more than six percent since 2010. The country's economic vitality anchors in strong consumer demand, supported by remittances and improving labor market amid increasing urbanization and a growing middle class. Economic growth is further buoyed in recent years by capital investments as businesses improve productive capacity and the government pursues its infrastructure investment programs. Maintaining and strengthening this growth trajectory, however, may require rethinking of development strategies specially in the context of emerging technological trends. These technological advancements pose new opportunities and challenges to the Philippines, appearing in many facets of the economy, businesses and people's lives such as in the rise of e-commerce, financial technology, sharing platforms, IT-BPM industry, and Industry 4.0.
Technology can promote competitiveness and productivity growth. It can benefit the agriculture sector through mechanization and the application of biotechnology, and the manufacturing and services through the integration of production systems, streamlining of processes, and improvements in supply and value chain. It is also seen as part and parcel of the solution to reduce the complexity of doing business in the country; promote social inclusion and participation; and address health and environmental challenges. Nonetheless, technologies can also be a potential source of risks and disruptions in the form of social inequality, labor displacement, and security and privacy risk. Managing the risks associated with disruptive technologies needs thoughtful answers to questions like how to better educate and equip the youth for the future, how to upgrade and reskill the workforce, how to make MSMEs more innovative, and how to address regional disparities and imbalances, among others.
Ultimately, the narrative on technology is tied to its potential as a driver of structural reforms and long-term economic development. To sustain growth, the economy needs to industrialize.  Industrialization is not just about manufacturing, but also about the manufacturing sector's linkages and connections with agriculture and services. In this age of digital and knowledge economy, how can the Philippines industrialize, and what should be the strategy? Our economic sectors are largely characterized by gaps in supply and value chains; by low value, back-end assembly and test; and high dependence on imports due to lack of local raw materials and intermediate parts and components supply.  It is also largely dominated by the services sector particularly by the wholesale and retail including low value-added repair of vehicles and appliances. Given its current economic structure, how can the country leverage technologies to realize inclusive and sustainable growth and development goals?
For more information, you may contact us at pes.eaea@gmail.com or (02) 8-929-2671.
Program and Speakers

Conference Program

7:30-8:30 AM

Registration

8:30-8:45 AM

Welcome Remarks

Lawrence B. Dacuycuy

President, Philippine Economic Society

 

8:45-9:15 AM

Keynote Presentation

PH New Industrial Strategy: Embracing Industry 4.0 and S&T-based Industrial Development

Rafaelita M. Aldaba

Undersecretary, Department of Trade and Industry

 

9:15-10:30 AM

PLENARY SESSION I. Rethinking Development Strategies

---

Panel Speakers:

Rosemarie G. Edillon

Undersecretary, National Economic and Development Authority

 

Eli M. Remolona

Professor of Finance and Director of Central Banking, Asia School of Business

 

Marilou Uy

Director, Intergovernmental Group of Twenty-Four on International Monetary Affairs and Development

 

Minette B. Navarrete

Co-founder and President, Kickstart Ventures, Inc.

 

Moderator:

Emilio S. Neri, Jr.

Chief Economist, Bank of the Philippine Islands

 

10:30-11:30 AM

PLENARY SESSION II. Climate Change and the Economy: Translating the Physical Impacts of Climate Change into Economic Terms

(Sponsored by the National Economic and Development Authority)

---

 

Presentation on Estimation of Climate Change Damage Functions

World Bank

 

Panel of Reactors:

Rosemarie G. Edillon

Undersecretary, National Economic and Development Authority

 

Emmanuel de Guzman

Secretary, Climate Change Commission

 

Laura David

Director, Marine Science Institute, University of the Philippines

 

Agustin Arcenas

Associate Professor, School of Economics, University of the Philippines

 

Moderator:

Nerissa Esguerra

Director, Development Information Staff, National Economic and Development Authority

 

11:30-12:30 PM

PLENARY SESSION III. The Fourth Industrial Revolution and ASEAN Economic Integration: Issues in Research and Methodologies

(Sponsored by the De La Salle University)

---

 

Structure of Research in the Philippines: Implications on the Fourth Industrial Revolution

Tereso S. Tullao, Jr.

Adjunct Professor of Economics, De La Salle University

 

Engineering the Circular Economy

Raymond R. Tan

Vice Chancellor for Research and Innovation, De La Salle University

 

Moderator:

Mitzie Irene P. Conchada

Associate Dean and Full Professor, School of Economics, De La Salle University

 

12:30-1:30 PM

Lunch

---

Induction of New PES Members

---

Awarding of Best Papers

---

Breakout Session: Strategies in Publishing: Conversations with Journal Editors

(Slots are limited. Click here to register.)

Panel Speakers:

Calla Wiemer

Editor-in-Chief, Journal of Asian Economics

 

Jesus Felipe

Managing Editor, Asian Development Review

 

Tereso S. Tullao, Jr.

Editor-in-Chief, DLSU Business and Economics Review

 

Emmanuel S. de Dios

Immediate former Editor-in-Chief, The Philippine Review of Economics

 

Moderator:

Majah-Leah V. Ravago

Associate Professor, Ateneo de Manila University Department of Economics

 

1:30-3:00 PM

Parallel Sessions A

Session A1. Innovative Approaches in Measuring Poverty and Poverty Impact Assessment (DLSU-sponsored session)

Session A2. Labor Market Characteristics of the Disadvantaged Sectors (NEDA-sponsored session)

Session A3. Trade, Capital Flows, and Macroeconomic Fluctuation (BPI-sponsored session)

Session A4. Socioeconomic Researches in Agriculture, Aquatic, and Natural Resources (AANR) Sector (PCAARRD-sponsored session)

Session A5. Economics of the Household: Theoretical and Empirical Perspectives

Session A6. Issues and Possibilities in the Economics of Innovation

Session A7. Institutional Economics, Law and Order, Liability Rules

Session A8. Human Capital, Education, and Social Mobility

 

3:00-3:20 PM

Break and Poster Session

3:20-4:50 PM

Parallel Sessions B

Session B1. The Fourth Industrial Revolution in Finance and Insurance: Issues and Challenges (DLSU-sponsored session)

Session B2. Local Econ-spatial Planning (NEDA-sponsored session)

Session B3. Digital Economies, Productivity, and Efficiencies (FNF-sponsored session)

Session B4. Bangko Sentral ng Pilipinas Session (BSP-sponsored session)

Session B5. Assessing Human Capital Outcomes in the Philippines

Session B6. Technological Change and the Philippine Labor Market

Session B7. Fisheries

Session B8. Agriculture

 

4:50-6:00 PM

PLENARY SESSION IV. Dynamic Markets, Growth, and Inequality: Can Antitrust Crack the Code?

(Sponsored by the Philippine Competition Commission)

---

Panel Speakers:

Arsenio M. Balisacan

Chairman, Philippine Competition Commission

 

Stella Luz A. Quimbo

Member, House of Representatives

 

Kelly Bird

Country Director (Philippines), Asian Development Bank

 

Raul V. Fabella

Professor Emeritus, University of the Philippines School of Economics

 

Guillermo M. Luz

Chairman, Liveable Cities Challenge

 

Moderator:

Ronald U. Mendoza

Dean, Ateneo School of Government

 

---

Induction of Young Economists Honor Society 2019

---

Announcement of PES Election Results

---

Closing Ceremony
Plenary Speakers
Presentations

Disclaimer: This listing includes only the presentations whose authors gave us permission to make available to the public.

(Click on the titles to access a PDF copy of the presentation files.)

---

Keynote Presentation

PH New Industrial Policy i3S: Embracing Innovation and Industry 4.0 (Undersecretary Rafaelita M. Aldaba, Department of Trade and Industry)

 

Plenary Presentation

Estimating Climate Change Impacts in the Philippines (Stephen Ling, World Bank-East Asia and Pacific Region)

 

Breakout Session: Labor Market Characteristics of the Disadvantaged Sectors

Out-migration in Philippine Agriculture (Ritchelle J. Alburo, National Economic and Development Authority)

Determinants of Female Labor Force Participation (Rosemarie G. Edillon, National Economic and Development Authority)

 

Breakout Session: Socioeconomic Researches in Agriculture, Aquatic, and Natural Resources (AANR) Sector

Role of Cooperatives in Technology Adoption for Improved Production and Market Efficiency in Dairy Buffalo (Agham Cuevas, University of the Philippines-Los Baños)

 

Breakout Session: Local Econ-spatial Planning

Economic Impact of Pedestrianization of an Urban Space in Metro Cebu (Crispin Diaz, UP Planades)

Estimating the Urban Carrying Capacity of Baguio City (Donna Tabangin, CERTEZA)

 

Breakout Session: Agriculture

The State of Selected Agri-tourism Venture in Bohol (Rosemary G. Zacal, Holy Name University)
Conference Registration

How to Register

---

Step 1. Fill out the online registration form.

---

Step 2. Pay the corresponding registration fees:

| | |
| --- | --- |
| Regular rate | PhP 3,000 |
| Early bird rate | PhP 2,400 (only until 30 September 2019) |
| PES Members  | PhP 1,500 |
| Paper Presenters | PhP 1,500 |
| Students | PhP 1,000 |

---

Payment options:

Pay online:

 

 

Pay through bank deposit and send a clear copy of the deposit slip to pes.eaea@gmail.com:

Account name: Philippine Economic Society, Inc.
Account number: SA 408 009 8378
Bank branch: BDO West Avenue-Del Monte Branch

-->
Call for Papers and Sessions
CHED Endorsement

CHED Endorsement File Upload