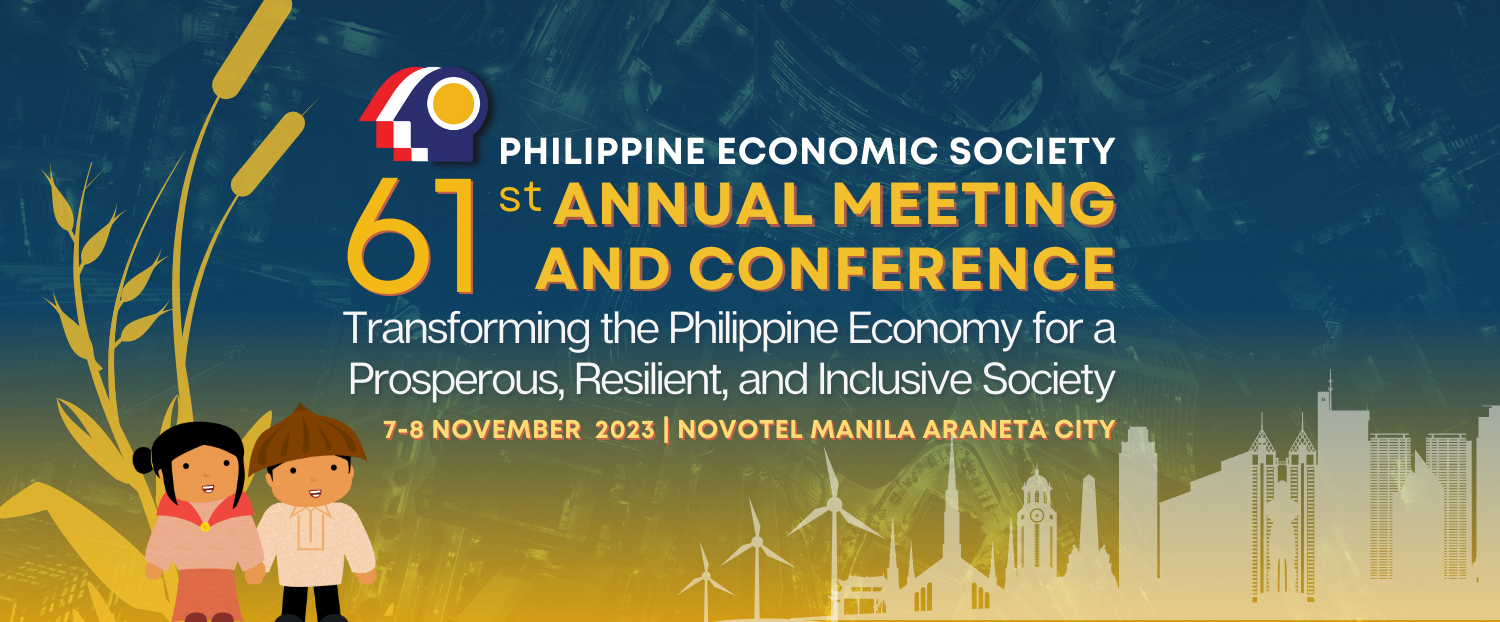 ---
Transforming the Philippine Economy for a Prosperous, Resilient, and Inclusive Society
7-8 November 2023 | Novotel Manila Araneta City, Quezon City
Attaining sustainable economic growth and transformation has been the proverbial challenge for the Philippines for the last five decades. As we emerge from one crisis to another, hope springs eternal that the collective lessons and learnings we have accumulated will finally lead us to the path towards development and prosperity. However, as each crisis we face intensifies, more and more weaknesses and vulnerabilities are exposed, making it more difficult for the economy to recover and move forward.
The 2023 conference theme centers around the Philippine Development Plan (PDP) 2023-2028. It encourages stakeholders to actively participate in the shared efforts to establish a prosperous, resilient, and inclusive society. The PES conference will highlight strategies that contribute to a transformed, dynamic, vibrant, and resilient Philippine economy. Distinguished speakers will address the perceived challenges faced by different sectors, the necessary structural transformations, and the crucial steps required to ensure the success of the PDP in today's volatile, uncertain, complex, and ambiguous world.
For inquiries:
The PES Secretariat
c/o Philippine Social Science Council
Tel No.: (632) 8-929-2671
Email: pes.eaea@gmail.com
Conference Registration

All plenary and breakout sessions of the conference will be held on-site. Plenary sessions will be available through private streaming via Zoom for online participants.

---

 

How to Register

---

Step 1. Fill out the online registration form through the button below.

 

 

Step 2. Pay the corresponding registration fees.

The registration fees are as follows:

Category
On-site Participants  
Online Participants*  
Non-PES members   
PhP5,000
PhP500
Non-PES members (early bird)
(until 15 September 2023 only)
PhP4,500
-
PES members
PhP2,500
PhP500
Paper Presenters
PhP2,500
-
Students
PhP2,500
PhP250

* Online Participants will have access to plenary sessions only via Zoom.

 

---

Payment options:

Pay online via PayPal or credit/debit card and send the payment confirmation to pes.eaea@gmail.com:

 

Pay through bank deposit/transfer and send a clear copy of the deposit slip to pes.eaea@gmail.com:

Account name: Philippine Economic Society, Inc.
Account number: 2281-0007-08
Bank branch: BPI - U.P. Techno Hub

​

Pay in cash at the PES Secretariat office, c/o the Philippine Social Science Council Secretariat, 2/F PSSCenter, Commonwealth Avenue, Diliman, Quezon City.

 
Call for Papers and Sessions

The PES invites individual papers and session proposals on all theoretical, empirical, and policy dimensions of the following sub-topics:

Economic growth
Sustainable economic development
Digital economies
Financial economics
Competition and innovation frameworks and incentives
Trade and economic integration
Business cycle and productivity analysis
Poverty alleviation and social protection
Agriculture, natural resource and environmental management
Labor economics
Economics of energy/power and policy
Institutional economics, law and order, liability rules
Long-term planning, modeling, and economic forecasting
Econometric models and applications
Economics of natural disasters
Public policy and public health crisis
Education, health, and human capital formation

Submission of Proposals

All breakout sessions of the 61st PES Annual Meeting and Conference will be held on-site at the Novotel Manila Araneta City. Individuals or institutions interested in organizing breakout sessions must prepare proposals for a 1.5-hour session. Meanwhile, individual paper presenters will be grouped together into breakout sessions to be organized by the PES.

Individual paper submissions must include (1) a two-page executive summary of the paper containing the purpose of the research, method of data gathering and analysis, and overview of findings; and (2) a 150-word maximum abstract of the research paper.

Session organizers must submit a session proposal in one Word document file, which includes (1) the session title; (2) a 150-word maximum session abstract; (3) titles and abstracts of each paper presentation; and (4) the list of session participants (e.g., moderator, presenters, discussants), including their names, institutional affiliations, positions, and email addresses. You may download the session proposal template by clicking here.

The extended deadline for submission is on 31 August 2023. Proposals must be submitted through the submission form by clicking the button below.

 

Review and Acceptance of Proposals

All abstracts and session proposals shall be reviewed by the Conference Scientific Committee. PES shall issue notices of acceptance by 31 August 2022. Authors of accepted abstracts may also submit their full papers should they wish to be considered for possible publication in The Philippine Review of Economics journal.

Dates to Remember

Submission of abstracts and session proposals [EXTENDED DEADLINE]
31 August 2023

Notification of acceptance
(first batch: abstracts and proposals submitted before 15 August 2023)

31 August 2023

Notification of acceptance
(second batch: abstracts and proposals submitted from 16 to 31 August 2023)

15 September 2023
Deadline of confirmation of participation*       
22 September 2023
Deadline of full paper submission**
23 October 2023
Conference dates
7-8 November 2023

* Only those who confirmed their participation and paid their registration fee will be included in the program.
** Submission of full paper is optional if the presenters wish to be considered for possible publication in The Philippine Review of Economics journal.
Hotel Accommodations

Novotel Manila Araneta City

Attendees of the 61st PES Annual Meeting and Conference may avail of the special room rate of PhP5,700 nett/night for superior room (single or twin/double occupancy) with breakfast. To avail, please send an email to Shaira.Manalac@accor.com and h7090@accor.com, mentioning that you are attending the PES annual conference on 7-8 November 2023.

For more information on the Novotel Manila Araneta City, you may visit https://www.novotelmanilaaranetacity.com/