Image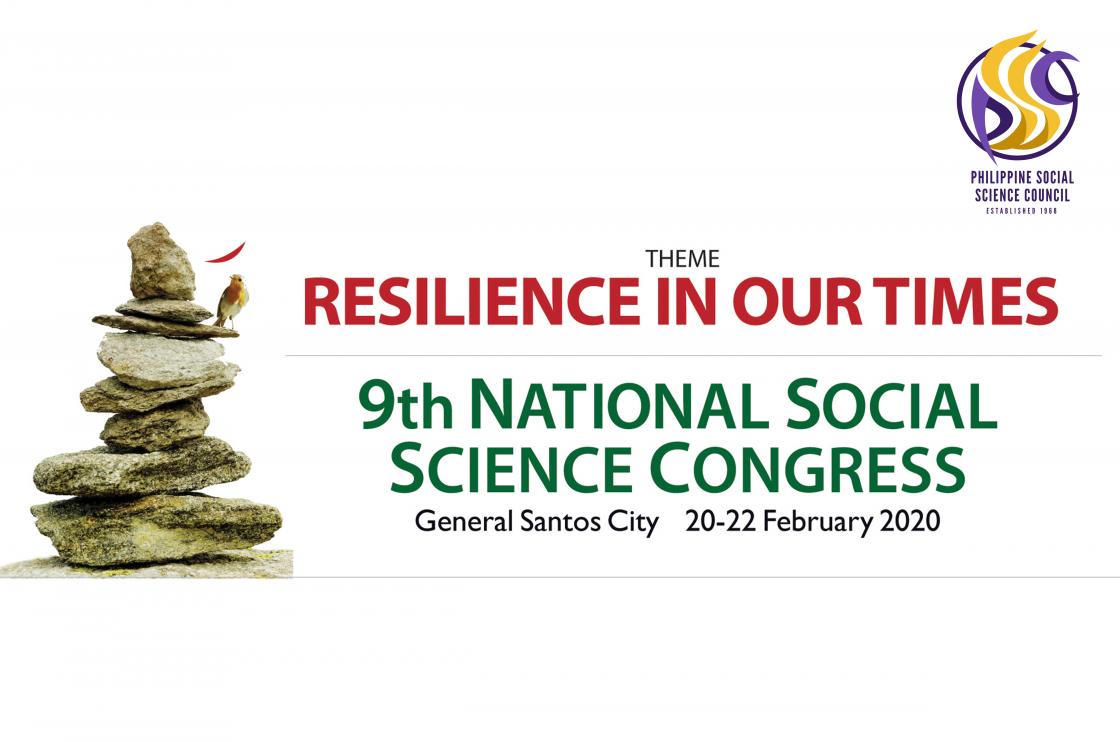 The Philippine Social Science Council (PSSC) announced the conduct of the 9th National Social Science Congress (NSSC 9) on 20-22 February 2020 in General Santos City.
The NSSC is a signature program of the PSSC that serves as the platform for social scientists to share their latest research, test concepts, theories and ideas, and critically examine issues of social significance. The NSSC enables other sectors of society, including policy makers, legislators, local officials, donor agencies and civil society organizations, to develop partnerships with the social sciences in their common pursuit of human development, equality and wellbeing. The NSSC also gives voice to scholars, researchers and teachers who wish to be involved in understanding society and contributing to its betterment.
Theme: Resilience in Our Times
Focusing on the theme Resilience in Our Times, NSSC 9 hopes to engage the country's social scientists (and other sectors of the society) in the discussions about the dimensions of resilience in the face of climate change, imperialist plunder, war and peace, disaster risk reduction, international relations, socio ecological systems, human development, planning, communication, among others. Specifically, it will inquire into how the social sciences (and other sectors of the society) respond to and address the issues of resiliency. It will look into the various manners, approaches, and experiences in promoting and pushing for resiliency towards development, equality, and social justice.
Resilience is a social practice that is shaped in the context of families, communities, organizations, societies, and cultures. With the onslaught of globalization, environmental changes, and  human egotism and neglect, PSSC deems it necessary to focus on resilience since it is a need and a response that permeates practically all human activities and conditions. With resilience, people adapt and cope well amidst grueling life events and experiences, such as stress, adversity, traumatic experiences, tragedy, threats. Resilience is also vital in family and relationship problems, health complications, workplace troubles and financial hitches. The importance of resilience cannot be ignored because it enables people to come up with mechanisms against overwhelming situations.  It creates a balance when confronted with challenges and can serve to protect individuals from the development of mental health issues. Resilience likewise ensures that institutions, systems, and communities are able to manage or mitigate risks, disruptions and crises.
NSSC 9 invites individual paper/poster and panel session proposals that may fall under any of the identified panel themes:
Adapting to and minimizing impacts of climate change
Response to energy shortage in Mindanao
Understanding security threats
Minimizing risks to and supporting recovery of communities
Managing complex systems in times of change;
Coping and thriving in times of adversity (individual/sectoral/organizational responses to crisis);
Escaping the poverty trap; enhancing human well-being
Urban and regional planning
Communicating resilience (campaigns and advocacies)
Digital technologies enabling resilience/Resilience against disruptive technologies
Historicizing, politicizing resilience
Resilience of culture/language
Resilience as a concept
Food security and insecurity
Building capacity for strong economy
Interested participants may submit a 250- to 300-word abstract to nssc9@pssc.org.ph together with their name/s, institutional affiliation, contact numbers, and email address.
Dates to Remember
30 September 2019 - Deadline for submission of paper/poster/ panel abstracts
30 October 2019 - Notification of paper/poster/panel acceptance
30 November 2019 - Presenters' deadline for registration (for paper to be included in the program)
Registration Fees
Regular Rate - PhP4,000
Early bird rate - PhP3,500
Student rate - PhP3,000 (graduate students) or PhP2,000 (undergraduate students)
The registration fee will cover the following: access to all sessions, lunches and mid-morning/afternoon refreshments, and conference kit including a printed copy of the Program and Book of Abstracts.
 
Category
Latest News and Events