Image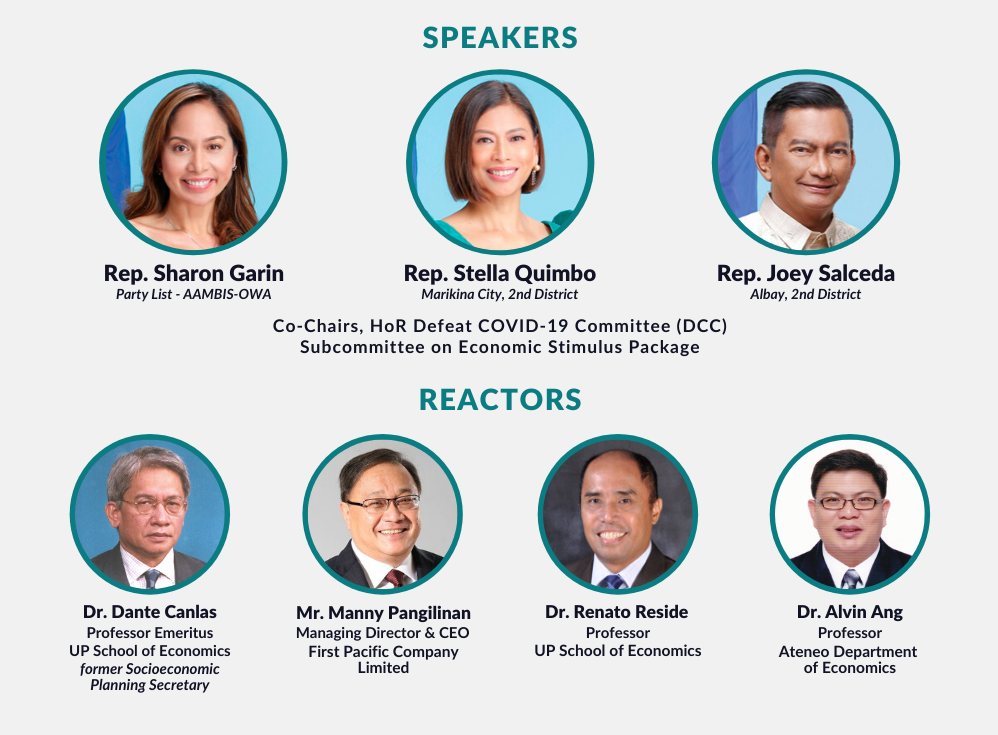 Lawmakers presented their proposed economic stimulus package to address the expected economic decline brought about by the global COVID-19, during a public webinar on 04 May 2020.
AAMBIS-OWA Representative Sharon Garin, Marikina Representative Stella Quimbo, and Albay Representative Joey Salceda, who co-chair the Subcommittee on Economic Stimulus Project of the Defeat COVID-19 Committee of the House of Representatives, hoped that the proposed measures will ensure business continuity and worker retention amidst the adverse effects of the pandemic.
The committee is working on consolidating House Bill No. 6606, introduced by Quimbo, and House Bill No. 6619, introduced by Salceda, which will allot an amount of PhP370 billion as a stimulus package for the economy.
Quimbo, who is also a former PES President, stressed that there are two major obstacles to re-opening the economy--first, the liquidity concerns of businesses, especially those that did not have revenue but continuously spent overhead expenses; and second, the fear factor owing to lack of mass testing. She added that these may lead to increase in unemployment if not addressed.
To help address these issues, the proposed interventions by the three lawmakers include wage subsidies, zero- and negative-interest loans for small businesses, and assistance to startups and MSMEs.
The proposed stimulus plan also includes structural reforms to increase economic resilience, an enhanced Build, Build, Build program, heightened role of public-private partnerships, modernization of health and educational facilities, among others.
In addition, Salceda stressed the need to reach and maintain minimum health standards before LGUs can shift from enhanced to general community quarantine. These standards include a threshold for testing and the number of mechanical ventilators, ICUs, hospital beds, and frontliner protective equipment to be made available.
Quimbo emphasized the need for a gradual, cautious, and informed re-opening of the economy, noting that economic decisions need to be data-driven. Salceda also cautioned that these interventions are not meant to be mere intubation or dextrose, but vitamins for the economy in the long run.
The webinar, titled "Legislative Measures on Relief and Recovery for COVID-19," was organized by the University of the Philippines School of Economics, the Ateneo de Manila University Department of Economics, and the Philippine Economic Society.
To view the recording of the webinar, click here.
Category
Latest News and Events