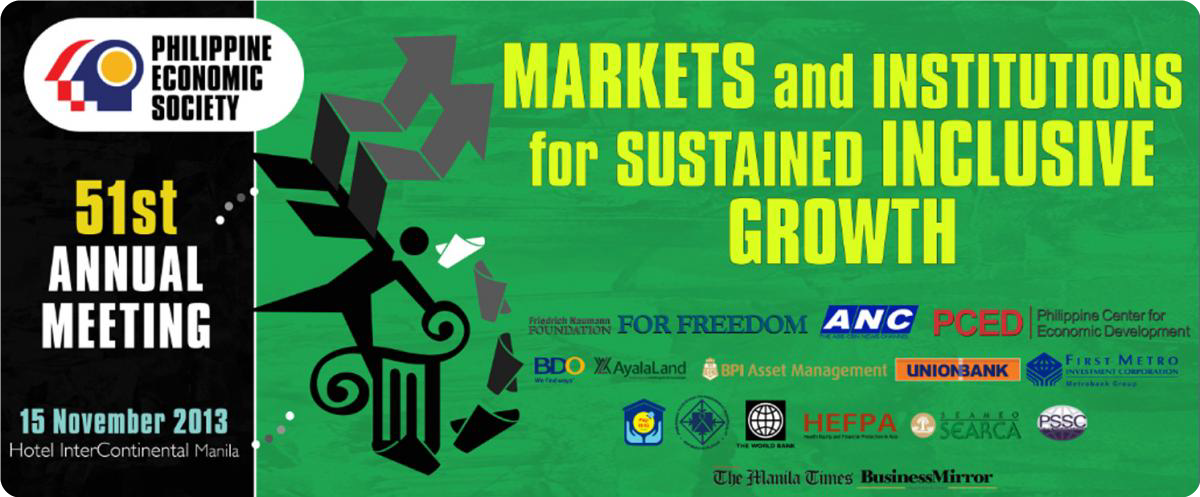 Theme: "Markets and Institutions for Sustained Inclusive Growth"
The conference sought to revisit the role of efficient markets and a strong institutional framework in realizing the country's twin goals of inclusiveness and sustainability.
USec. Gil Beltran of the Department of Finance delivered the conference keynote address on behalf of Sec. Cesar Purisima.
The opening plenary session featured National Competitiveness Council Private Sector Co-Chair, Guillermo Luz as well as Bank of the Philippine Islands President, Cesar Consing. They shared the views of the private sector on the sustainability and inclusivity of growth.
The second plenary session on the global, regional and national views on Philippine and Asian growth prospects featured Josh Felman, Assistant Director of Research at the International Monetary Fund in Washington D.C.; Eli Remolona, Chief Economist for Asia and the Pacific of the Bank for International Settlements, Hong Kong; and Rogier van den Brink, Lead Economist of the World Bank East Asia and Pacific.
Program and Speakers

Schedule

9:00

OPENING CEREMONY AND KEYNOTE ADDRESS

Master of Ceremony

TERESO S. TULLAO JR.

De La Salle University

---

President's Welcome and Opening Remarks

ALVIN P. ANG

University of Santo Tomas

---

Introduction of the Keynote Speaker

MA. TERESA S. HABITAN

Department of Finance

---

Keynote Address

CESAR V. PURISIMA

Secretary, Department of Finance

9:20

GUILLERMO M. LUZ

Chair, National Competitiveness Council

---

CESAR P. CONSING

President, Bank of the Philippine Islands

10:10
Coffee Break (Poster presentations)
10:30

Plenary 2: 

 

JOSHUA FELMAN

Assistant Director, Research Department
International Monetary Fund

---

ELI M. REMOLONA

Chief Representative for Asia and the Pacific
Bank of International Settlements

---

ROGIER VAN DEN BRINK

Lead Economist, Poverty Reduction and Management
Dept. of East Asia

11:45

PES Election

12:00

Luncheon Plenary

Introduction of the Speaker

STELLA A. QUIMBO

UP School of Economics

---

Plenary Speaker

A Historic Moment to Transform the National Budget Process

FLORENCIO V. ABAD

Secretary Department of Budget and Management

 

Parallel Session 1

1:00 – 2:30

Panel 1A

 

Natural Resources and Environment: Climate Change, Water, and Waste (PCED Session)
Session Chair: Majah Ravago
Venue: Dasmariñas Room

Inter-Generational Games with Dynamic Externalities and Climate Change Experiments
Katerina Sherstyuk, Nori Tarui, Majah-Leah V. Ravago and Tatsuyoshi Saijo

 

---

Economic Regulation of Water Supply in the Philippines

Adoracion Navarro

---

Who Should Shoulder the Cost on Solid Waste Management?

Levi Guillermo Lima Geganzo

Panel 1B

 

Poverty and Development (PCED Session)
Session Chair: Toby Monsod
Venue: Legaspi Room

Geography and Development
Toby Monsod

 

---

Shocks to Philippine Households: Incidence, Idiosyncrasy and Impact
Joseph J. Capuno, Aleli D. Kraft, Stella A. Quimbo and Carlos Antonio R. Tan, Jr.

---

The Impact of the Philippines' Conditional Cash Transfer Program on Consumption

Melba Tutor

Panel 1C

 

Financial Markets
Session Chair: Victor Abola
Venue: Grand Ballroom

Measuring Asymmetric Volatility and Stock Returns in the Philippine Stock Market
Francesca Tomaliwan, Daniel Hofileña

 

---

A Renewed Econometric Analysis on the Efficient Markets Hypothesis of the Philippine Stock Market
Cyrus Paolo Macapili Buenafe

---

The Multifractality in the Philippine Stock Market and its Implication to Market Efficiency

Harvey M. Niere

Panel 1D

 

Economic sectors 1: Agriculture, Industry, and Services
Session Chair: Ramon Clarete
Venue: North Forbes Room

The Philippine Manufacturing Industry Roadmap: Agenda for New Industrial Policy, High Productivity Jobs and Inclusive Growth
Josef Yap

 

---

Market Competition in the Downstream Oil Industry: Is there Evidence of Price Asymmetry?
Ma. Joy Abrenica, Nimfa Mendoza and Rolando Danao

---

Analyzing and Forecasting Movements of the Philippine Economy using the Dynamic Factor Models (DFM)

Dennis Mapa and Ma. Christina Simbulan

---

Re-Examination of the Contribution of Net-Exports to GDP Growth (1961-2000)
Kristine Joy Cruz Martin

Panel 1E

 

The Philippines and the Global Economy
Session Chair: Peter U
Venue: Bel-Air Room

Managing Economic Shocks and Macroeconomic Coordination in an Integrated Region: ASEAN Beyond 2015
Ruperto Majuca

 

---

The Economic Potential via the Gravity Model of Trade
Nikkin Beronilla, Jude H. Esguerra , and J. Ocampo

---

Trade Liberalization and Trade Performance in Asia: 1974-2008
Marissa Maricosa Paderon

Panel 1F

 

Institutions and Governance
Session Chair: Victor S. Venida
Reactors: Edsel Beja and Temario Rivera
Venue: San Lorenzo Room

The Effect of Emigration on the Quality of Governance at Home: Evidence from Local Institutions in Moldova
Toman Omar Mahmoud, Hillel Rapoport, Carl von Schweinitz and Andreas Steinmayr

 

---

What Prevents the Philippines from Undertaking Tax Reform? State Capture, Middle Class Opt-Out and Disempowerment of the Poor– A Story in the Un-raveling of the State
Rosa Maria Alonso Terme

---

Will Access to Information on Political Dynasties Alter Voting Behavior? Evidence from a Youth Voting Experiment
Tristan Canare, Ronald Mendoza and Gladys Navarro

 

Parallel Session 2

3:00 – 4:30

Panel 2A

 

Economic Sectors:Agriculture, Industry, and Services
Session Chair: Ruben Nayve
Venue: Dasmariñas Room

Call Me Maybe: The Impact of Telecommunications on Economic Growth in the Asean Region
Mc Reynald S. Banderlipe II

 

---

Korean Inbound Tourism to the Philippines: A Macroeconometric Evaluation
Cesar C. Rufino

---

An Inoperability Input Output Approach in Evaluating the Impact of the Mindanao Power Crisis
Francesca Dianne B. Solis, Krista Danielle S. Yu, Raymond R. Tan

---

An Inquiry into Nexus between Demand for Aviation and Economic Growth in Philippines
Bilal Mehmood

---

Assessment of Prospective Impact of Fruits and Vegetables Research at the Industry Level in the Philippines: The Case of the ACIAR-PCAARRD Horticulture Project
Roehlano Briones and Ivory Myka Galang

Panel 2B

 

Methods and Metrics
Session Chair: Edsel Beja
Venue: Legaspi Room

The Easterlin Paradox: Empirics on the Income Happiness Relationship sans Hedonic Adaptation
Edsel Beja

 

---

A Global Macroeconomic Forecasting Model for the Philippines
Ruperto Majuca

---

Aggregate Labor Productivity as the Driver of Real Per Capita GDP: A New Look at Philippine Economic Growth, 2002-2011
Jesus C. Dumagan

---

Aspirations of Filipino Women Entrepreneurs in the Informal Economy
Marites Tiongco

Panel 2C

 

CHED Proposed Standards for Economics Programs
Session Chair: Jose Camacho
Venue: Grand Ballroom

Outcomes-based Education for Economics
Lawrence Dacuycuy

 

---

Proposed Policies, Standards and Guidelines (PSG) for Economics Education
Fernando Aldaba

Panel 2D

 

Student Papers
Session Chair: Mary Anelle Lopez
Venue: North Forbes Room

Nature versus Nurture of Trust
Deanne Lorraine C. Dumo, Mary Kristine Rabe

 

---

The Labor Participation – Fertility Trade-off: Exploring Fecundity and its Consequences to Women's Employment in the Philippines
Ariane Gabrielle Lim, Daphne Ashley Sze, Kenneth Santos

---

Factors Affecting Farmer's Participation in the Philippine Crop Insurance Corporation Rice Insurance Program and the Effects of the Insurance program in Reducing Income
Armand Christopher Rola

---

The Diamond Years?: A Study on the Healthcare Expenditure Patterns of Elderly Household Heads in the Philippines
Nicholas Andrew U. Price, Nico Angelo M. Rabang

Panel 2E

 

Health Equity and Financial Protection in Asia (HEFPA Session)
Session Chair: Aleli D. Kraft
Venue: Bel-Air Room

Coping and Consumption Adjustments for Similar Shocks Over Time
Aleli D. Kraft, Joseph J. Capuno, Stella A. Quimbo, Carlos Antonio R. Tan, Jr.

 

---

Squeezing the Middle: A Randomized Experiment to Promote Voluntary Enrollment in a Social Health Insurance Program
Joseph J. Capuno, Aleli D. Kraft, Stella Quimbo, Carlos R. Tan, Jr. and Adam Wagstaff

---

Will Insurance Subsidies and Information Improve Willingness-to-Pay for Health Insurance? Evidence from the Philippines
Stella A. Quimbo, Aleli D. Kraft, Joseph J. Capuno, Carlos Antonio R. Tan, Jr. and Adam Wagstaf

Panel 2F

 

Human Capital
Session Chair: Melly Paraiso
Venue: San Lorenzo Room

K to 12: Human Capital for Whom?
Bernardita R. Churchill

 

---

Returns to Education in the Philippines: A Quantile Regression Perspective
Jan Carlo Punongbayan

 

 

 

 

 

 

 

 

 

 

 

 

 

 

 

 

 

 

 

 

 

 

 

 

 

 

 

 

 

 

 

 

 

 

 

 

 

 

 

 

 

 

 

 

 

 

 

 

 

 

 

 
Presentations

Cesar Consing, President-BPI Plenary Speaker I

Usec Gil Beltran Keynote Speech