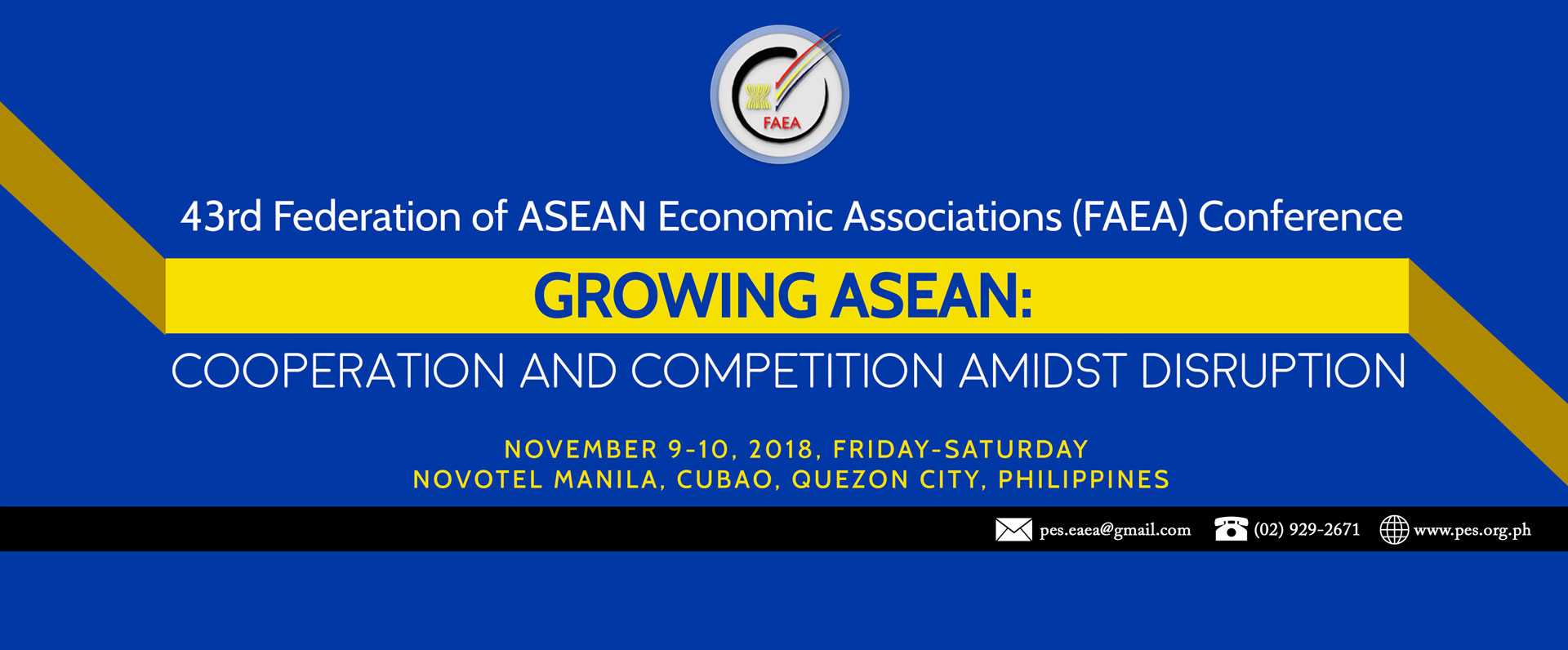 ​
The Federation of ASEAN Economic Associations (FAEA) is a union of economic societies and associations in Southeast Asia and is currently comprised of the respective economic societies of Cambodia, Indonesia, Malaysia, Philippines, Singapore, Thailand, and Vietnam. It aims to promote the study of economics and its implications and foster cooperation in research and intellectual discourse among member countries.
The 43rd FAEA Annual Conference
Since its inception in 1967, ASEAN has become a force to reckon with despite the challenges it has experienced. It is now the world's seventh largest market and third largest labor force. Given current growth projection, it is anticipated to become the fourth largest economic bloc by 2030.
The establishment of the ASEAN Economic Community (AEC) is yet another milestone in the economic integration agenda of ASEAN member countries.  The AEC Blueprint 2025 highlighted the goal of having a highly integrated, cohesive, competitive and innovative economy; a resilient and inclusive ASEAN; and a global ASEAN.
With this vision in mind, ASEAN must overcome disruptions in the form of disruptive technologies, a resurgence of protectionist sentiments, digital economy, among others.
It is in the above context that the 43rd Federation of ASEAN Economic Associations (FAEA) Conference is framed with a theme on Growing ASEAN: Cooperation and Competition Amidst Disruption.
Program and Speakers

Keynote Address (Day 1)

Dr. Yasuyuki Sawada

Chief Economist
Asian Development Bank

Technology and Inclusion in Asia

The keynote address will discuss two closely-related challenges in Asia: rising inequality and the impact of technologies. As to the first challenge, growing income inequality is a global concern. Especially in the aftermath of the Asian and global financial crises, widened inequality has received a great deal of public attention. While income disparities across countries including Asia have narrowed significantly over the past several decades—thanks to the robust economic growth achieved by many low- and middle-income economies—, income gaps within countries, both advanced and developing, have widened. As a source of increasing inequality, there are a number of factors listed in the literature: 4th industrial revolution, globalization, and market deregulation. Notably, on the arrival of new technologies, demand for jobs that require non-routine cognitive tasks has grown faster than jobs requiring routine and manual tasks, widening wage disparities. A detailed analysis of selected Asian economies shows that over the past decade, wages have also grown faster in non-routine/cognitive types of jobs. This would create further income inequality. Hence, there are many ways in which governments can achieve inclusive growth. Supports to infrastructure investments are also critical in setting the "enabling" environment of inclusive growth.

---

Keynote Address (Day 2)

Dr. James Roumasset

Professor of Economics Emeritus
University of Hawaii, Manoa

Principled Populism: The Road from Disruption to Cooperation

Getting from division to cooperation requires making the best out of divergent ideologies. Right-wing populism seeks to boost the middle class through nativism while left-wing populists seek redistribution. Both are perceived to be protectionist. Both also see rent-seeking as the root of evil, but of very different types. Before finding fault with either philosophy, I attempt to put the best face on each, in the spirit of Charles Krauthammer and Andrew Natios. Finally, I will suggest how modest revisions in both views can promote greater domestic and international cooperation.

 

---

 

Click here to view a more detailed FAEA Conference Program.

For the details on the keynote addresses, click here on the following links:
Presentations

Plenary Session 3: Understanding Contemporary Sources of Disruption (sponsored by De La Salle University-School of Economics)

 

Plenary Session 4: Where Are the Women in ASEAN's High-Growth Economies? (sponsored by Investing in Women, an initiative of the Australian Government)

 

Parallel Session A2: Issues and Challenges in ASEAN: Banking, Microfinance, and Governance

 

Parallel Session A3: Economic Development and Growth

 

Parallel Session A4: Population, Aging, and Gender Issues

 

Parallel Session B3: The Impacts of Environmental and Energy Policies: Lessons from International Experience

 

Parallel Session B4: Remittances and Foreign Direct Investments

 

Parallel Session B5: Wealth Index, Decentralization, Credit Risk Ratings

 

Parallel Session C2: Energy and Environmental Efficiency

 

Parallel Session C5: Trade and Technology

 

(Disclaimer: This page only includes presentations whose authors gave the PES consent to post online their respective presentations.)
Conference Registration

Register Now!

We invite you to join us at the 56th Annual Meeting and Conference of the Philippine Economic Society (PES) on 08 November 2018, to be held back-to-back with the 43rd Annual Conference of the Federation of ASEAN Economic Associations (FAEA) on 09-10 November 2018.

​

How to register:

STEP 1: Register online through this link. (The registration form is also accessible through bit.ly/PESFAEA_Registration.)

STEP 2: Pay the corresponding registration fee through the following channels:

Online: bit.ly/PESFAEA_Payment
Bank Deposit (Please send a scanned copy of your deposit slip to pes.eaea@gmail.com)

Account name: Philippine Economic Society, Inc.
Bank: BDO
Branch: West Avenue-Del Monte Branch
Account number: SA 408 009 8378

NOTE: 

To avail of the early bird rate, register AND pay on or before 08 October 2018.
Conference fees are inclusive of a conference program/book of abstracts, conference kit, and meals.
CHED Endorsement

CHED Endorsement File Upload